Arbor Day Celebration
Each year since 1996 Modie Park Conservancy has celebrated Arbor Day by planting an Armstrong Maple in the Ceremonial Ring of the Veterans Grove Arboretum on the hill behind the future Osborn Interpretative Center at 1901 8th Street. The public is invited to this annual ceremony held at 1 p.m. on the Saturday after Arbor Day, which, in Idaho, is always the last Friday in April.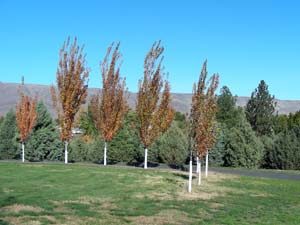 The Ceremonial Grove is approximately 1000 feet north of the new Ruth Rowell Modie Wildlife Park parking area at 1035 21st Avenue on the Regence Fitness Path. For ADA accessibility, use the Idaho State Veteran's Home parking lot and follow the fire road surrounding the Home north to an intersection of path. Continue north on the Fitness Path. Limited parking is available on the Osborn Vineyard drive-through and at the end of 9th Street in the1800 block. Additional points of access are from the cul-de-sac at the end of 13th Street and near the old stone tower at the intersection of 10th Street and Old Orchard Court.